Dura-Haul Trailers proudly sponsors Dealership Performance Training at the 2022 NATDA Trailer Show.
Dura-Haul Trailers Long-Lasting Quality in a New Market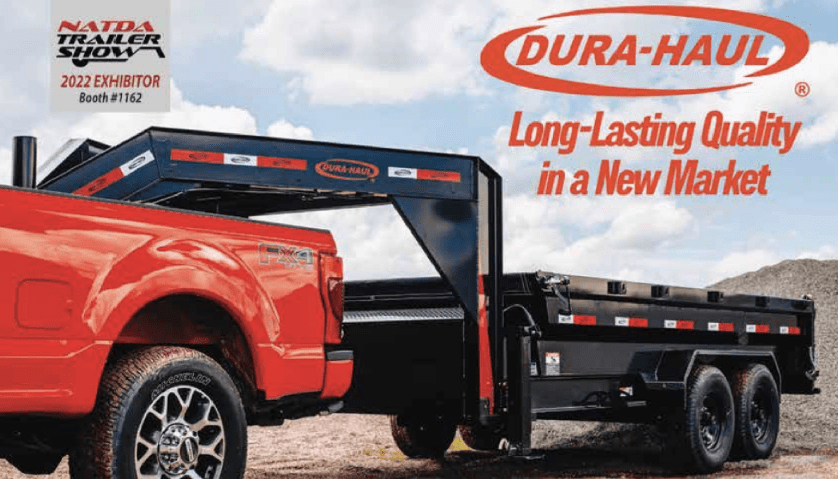 With customers lined up looking for dump, utility, car, and equipment haulers, Rene Friesen, Dura-Haul Trailers President, knew it was time to try something new and expand the product line. At a time when the company's main production line was heavy-duty construction and agricultural trailers, the shift in product size was much needed and very appreciated by new and existing dealers. 
With over 25 years of experience manufacturing heavy-duty trailers, Dura-Haul Trailers group of operating companies knew the growing market demand for light and medium-duty trailers was their chance to design and build a new lineup of trailers.
"It wasn't a matter of, 'Let's see what you can come up with and try it out," remembered Grant Cairns, Vice President of Sales at Dura-Haul Trailers. "It was, 'Can you expand your product line to build these? Customers want them'".
Entry into an additional market worked out well for Dura-Haul Trailers, whose products were quickly snapped up by dealers everywhere. Currently, its bestseller is the 7″x14″ Bumper-pull Dump trailer, which, according to Cairns, is built like a tank. 
"Our product is heavy," attested Cairns. "It's built to last, and it's important to us that it lasts. When there's a market demand like this, we focus largely on building a quality product."
True to his word, Cairns and the team make sure that trailers are built with materials that can withstand punishment. DuraHaul Trailers also come with a unique design, shaped to be wider at the top and allow for more capacity than the average model may hold. 
"Just like everyone else's trailers, ours are very competitively priced, but still built very well," added Rene Friesen, President of DuraHaul Trailers. "Because of its design, you can get more volume onto the trailer and you're making fewer trips. It's a better value."
As it seems, value has taken DuraHaul far. Its group of companies currently has operating plants in Canada, the United States, and Mexico.
"Since the market is so strong." Cairns said, " We needed additional capacity. With our newest facility in Mexico and the addition of trailers to our manufacturing facility in Tennessee, we can serve the Eastern market quicker."
Manufacturing facilities are not the only area in which the company goes above and beyond. DuraHaul Trailers committed engineering and manufacturing team puts extra emphasis on engineering and testing to ensure the trailers' design and features keep customers on the road. 
"We want our customers to feel comfortable with what they are getting," Cairns explained. "It's something we put out there so customers know what they are getting into before they buy a trailer. Whether it's an owner's manual or a warranty, we go the extra mile." 
DuraHaul Trailers has been successful in managing orders through its Continuous Inventory Management Program, an automatic replenishment system that sends the company updates about dealers' inventory. Through the program, the manufacturer can be sure dealers have continuous product. 
"In a time when many dealers have been hurting to get product, we took it upon ourselves to carry the risk associated with keeping inventory," Friesen said.  "That way, our dealers are not left waiting for product. It's been huge for them. At the end of the day, success for our dealers is success for us. The more in tune with their needs we can be, the more we can grow."
Luckily, Dura-Haul Trailers continues to expand its dealer base with businesses who service their customers best. The company's search is open to high-quality, reputable dealers who accurately represent the Dura-Haul Trailers brand.
"Everybody always wants more sales," remarked Friesen. "If your only goal is sales, though, you're going to have some collateral damage."
For Dura-Haul Trailers, it's crystal clear that quality is top priority.
"The product is going to last," Cairns concluded. "That's what we're all about."
"Since the market is so strong… we needed additional capacity.
With our newest building in Mexico, we can serve the East coast quicker."